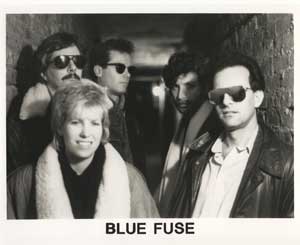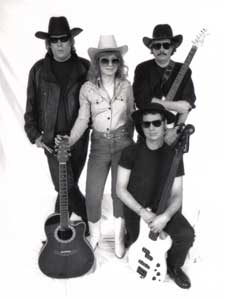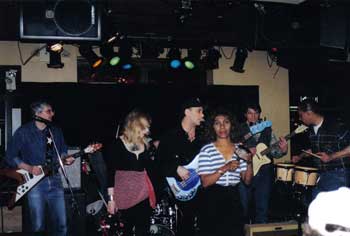 BlueBird, 2014
Jukebox Jamboree, 1988
Good Neighbors Band, circa 1974
BlueFuse, circa 1990
Night Owls, circa 1998
Good Neighbors was my college band. We enjoyed playing songs by the Grateful Dead, Jackson Browne, The Eagles, Poco, Beatles, and others. Our primary venues were fraternity parties around Brown University, Steak and Brew restaraunts, and private parties. We also had the honor of being the opening band for NRBQ on a number of occasions. This picture was taken at a Brown Spring Weekend concert where we opened for NRBQ. From left: Dan O'Connell (flute, sax, bass), Bobby Perfect (bass, gtr, vocals), Marty Sullivan (drums, vocals), Bill Brink (lead gtr, vocals), John Egelhofer (vocals, gtr, piano)
Jukebox Jamboree played a cool bunch of country rock and blues. Leigh Harrison played rhythm guitar and handled most of the vocals. I played lead guitar and did some singing. Clockwise from left: Zebra (drums), Leigh Harrison (vocals & guitar), Bobby Perfect (lead guitar, vocals), Steve Zavak (bass, vocals). Jukebox Jamboree played around the tri-state area, including City Hall Park in NYC and at the World Trade Center plaza.
Blue Fuse was one of my early blues projects. I played lead guitar. Clockwise from lower left: Beth West (bass & vocals), Bobby Perfect (lead guitar), Mike Lawrie (guitar), Mitch Suval (vocals), Jean-Pierre Laurent (drums). Blue Fuse played gigs in New York City.
The Night Owls were an ever-evolving association of players corraled by bandleader Pete Schaefer. I usually played lead guitar, but sometimes played bass guitar. Our primary venues were Manhattan and Queens bars. The Night Owls were a fun jam band no matter who was on the gig. This picture was taken at The Red Lion in Greenwich Village. From left to right: Bobby Perfect on the Flying V, Leigh Harrison (vocals, percussion), Cricket Cohen (bass), Juanita Kelly (vocals, percussion), Pete Schaefer (guitar, vocals), Tito (congas). Hidden behind Leigh Harrison is Lee Tucker (drums).
The Bokum Road Band is my good time jam band. We play clubs and private parties around the Connecticut shoreline area. Grist for our mill runs the gamut from 60s rock 'n' roll to country rock to zydeco.
BlueBird is a duo consisting of me and my longtime friend Leigh Harrison. We play NYC coffee houses, open mic events and parties around the New York & Connecticut areas. Our eclectic repertoire consists of Leigh's original songs, favorite country blues, old time jazzy songs, and a mixture of many other styles. This picture was taken at a cancer benefit held in Connecticut on August 23, 2014 (me on bass!)
Lonesome Valley Riders
Bokum Road Band
Good Neighbors
Jukebox Jamboree
Blue Fuse
The Night Owls
* * *
The Lonesome Valley Riders was a 3-piece (sometimes 4-piece) musical group that grew out of basement jam sessions. We played blues, rock 'n' roll, and country style tunes. LVR was Carl Garbe (right) on bass and vocals, Dave Hull (middle) on drums and me (far left) on guitar and vocals
BlueBird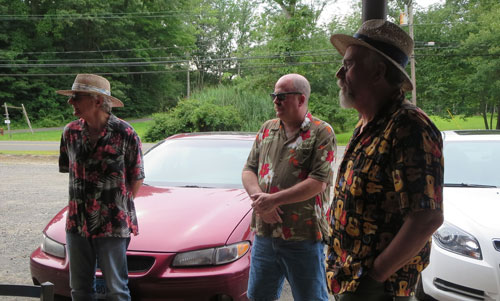 Photo credit - Leigh Harrison
Blue Rhythm Sandwich is a 5-piece band based in NYC & CT that I started with Leigh Harrison. BRS plays blues, rock, country, pop. RnB, rockabilly, and originals. From left: Bobby, Aaron, Leigh, Lyall, Dave at Desmond's Tavern, New York City on June 15, 2017.
These pictures are from The Back Porch in Old Saybrook, Ct. From left: Bobby Perfect (lead gtr); Laura Corning (rhythm gtr, vocals); Dave O'Donnell (lead vocals, gtr, harmonica); Hendee Braden (bass); Bill (drums); Kevin Rich (keyboards, squeezebox, zydeco rubboard).
Photo credit - Leigh Harrison
Photo credit - Leigh Harrison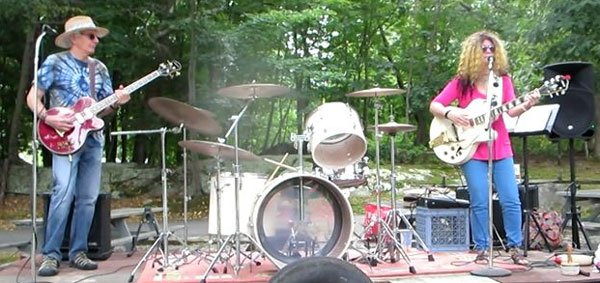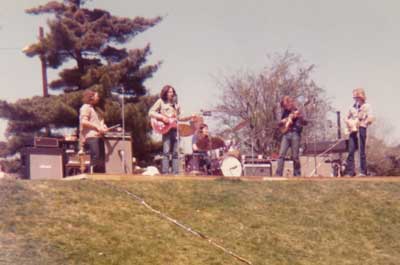 Bobby Perfect's Bands