Bobby Perfect Biography
Bobby Perfect is a lifelong musician and composer of numerous instrumental music pieces. He has played throughout the US, and in Europe. Mr. Perfect plays 6-and 12-string acoustic and electric guitars, and bass guitar, and has been playing in bands since childhood. He learned ensemble playing in bands performing 60's rock 'n' roll in his Connecticut hometown.
Bobby has performed at numerous venues throughout the New York area, including The Back Fence, The Bitter End, and The Red Lion, in Greenwich Village, as well as The Scotland Yard Blues Bar in Hoboken, N.J. He has worked with several bands, including the Night Owls, Blue Fuse, The Blues Blazers and Blue Rooster Pie. He currently plays in Connecticut with The Bokum Road Band and in NYC as part of the duo, BlueBird, and the 5-piece band, Blue Rhythm Sandwich. More recently, Bobby started a three-piece (sometimes four-piece) group call The Lonesome Valley Riders. LVR plays blues, rock 'n' roll and country.
Bobby recorded his first CD, "Bobby Perfect / Light Blue" during the 1990's and it was released in 2002 by SongCrew Records. It includes fifteen covers of pop, rock, and country favorites. His second CD, "Shackles," also from SongCrew Records, was released in 2005, and contains two cover songs, and eleven of his blues, rock, and fusion originals. Freddy Celis, a radio DJ in Belgium, exclaimed "...After the first time listening I thought, this can't be possible, it can't be this good. But … (repeated) … listening showed that it only got better..."
Bobby Perfect formed SongCrew Records in 2003 for the express purpose of producing his own music CD's, but SongCrew has featured other talented local artists including singer-songwriter, Leigh Harrison, on whose debut 2003 CD, "Leigh Harrison / Eclectic Chanteuse," Mr. Perfect played several superb guitar and Dobro solos. SongCrew Records has also produced poets, such as Larissa Shmailo, whose CDs, "The No-Net World" and "Exorcism," have received excellent reviews for both the quality of Mr. Perfect's production, and for the beautiful and haunting background music he composed to accompany some of her writing. In 2010, SongCrew released Leigh Harrison's second CD, "Oh, Wow!"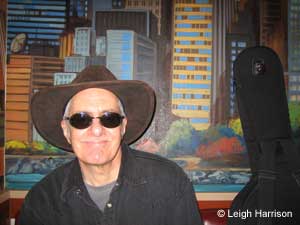 Bobby has helped support other musicians and poets over the years through his work with Poet to Poet, a group that produced Open Mics around the tri-state area. For some years, he co-hosted the Poet to Poet Open Mic for poets and musicians at the Back Fence in NYC's Greenwich Village and at coffee houses in Forest Hills, NY and Westbrook, CT. He composed the guitar instrumental heard in the opening and closing credits of the Poet to Poet TV show, now viewable on You Tube.
Mr. Perfect, who works out of his studio in Connecticut, says "I learned early from my rock 'n roll heroes that what's really important is to have fun with music."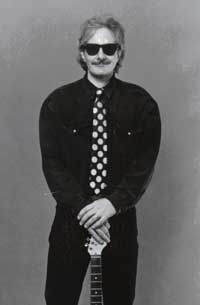 * * *
Photo credit - Christina Lord